Tomb Raider Automatic Out Of The Front Switchblades Knives Double Action.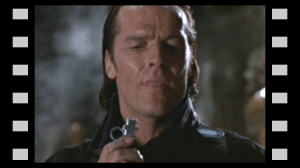 Double Action, which is sometimes referred to as Dual Action OTFs, Fire Open & Close By The Button.

The Tomb Raider switchblade exists only as a movie prop from the movie Lara Croft: Tomb Raider.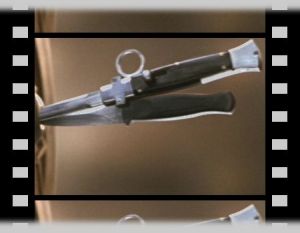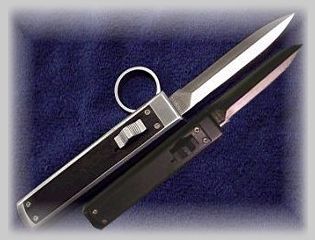 The now called "Tomb Raider" Out The Front switchblade is the production model OTF knife that had been produced before the movie but people began calling it as the "Tomb Raider" because of the movie.
You can clearly see differences:

The handle of the movie prop is styled like an Italian Stiletto with Top and Bottom Bolsters.

The Switch is round and chrome on the movie prop and black and square on the production knife.

The Finger Ring is mounted on the opposite side of the handle from the original from the movie.

Other than that, it's difficult to tell the two apart.

Special Thanks To: http://www.sewergator.com